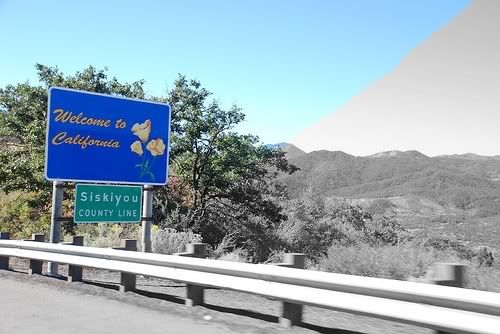 California...knows how to party...in the city...

So...sorry it has taken me
SOO
long to get this up...I'm just kind of a slacker...
WRONGO
!!! I have been busy, cleaning, schooling, teaching, washing, and playing the
Wii
Fit =)
Now that I sit down and write this...I should have been more thoughtful in my picture taking.
For one thing...I don't have a picture of Rose and I in our matching traveling
Snuggies
. (Or our matching traveling car outfits!) That's right folks...you know the ones! Rose's girls got me one for my birthday. She thinks that if she says the gifts are from the girls I will accept them!!! Well...she is right! ha!
If you aren't familiar with the blessed
Snuggie
...look at this video!
http://www.youtube.com/watch?v=h05ZQ7WHw8Y
(sorry you have to go here because YouTube isn't working on my blog! Worst day of my life really!!!)
So Friday the 20
th
started with a BANG! Not really, I had to go to school in the AM and then took off about 1:00 for Cali! After a LONG car ride, a rodeo cheeseburger, and a couple of potty stops later we arrived at our destination...RED BLUFF!!! It's a diamond in the rough, if you were wondering why you had never heard of it. =)
Rose and I took the girls to visit Rose's two sisters and her daddy.
We ate and visited A LOT while we were there. We even went to the Casino in Corning, CA (don't worry I had never heard of it either!) and guess who won $25 ???!?!?! THIS GIRL!!!
We stayed in Red Bluff Friday-Monday then hit the road for Wine Country!
Wahoo
!
Wine Country was amazing. Good massages, good food, and GOOD WINE!
For my birthday Rose arranged for Mud Baths. (Rose did A LOT for my birthday and she is IN TROUBLE for it!) I wasn't sure I would like it...but with her coaxing, I agreed. A new experience for ALL! We got
separate
appts
. as we had the
girlies
so someone had to stay with them. Even in California they frown upon leaving four year
olds
in Motel rooms alone. They would have been fine really...
Between Mud Baths we ventured into St. Helena (seven miles south of
Calistoga
where we were staying. We found "Taylor's Automatic Refresher" which is a walk up burger joint and it is
GOOOD
!!! Best burger around! They have been featured on the Food Network apparently. It was lovely!
Back to the Motel for my mud bath...hmmm...well...I have a phobia of being naked in front of ANYONE so complete strangers is worse. I am not like my
SuperColleague
,
Shuggie
, who calls herself a "Naked Baby"...true story...I was roommates with her at a conference one time and I was concerned she may just start walking around naked...she didn't but she did feel it necessary to warn me that she might, but that's neither here nor there.
So the mud bath starts just like it sounds...you get into a bath tub FULL of mud. It's a little larger than a bath tub. It has peat moss in it so it smells just lovely! You are covered in mud from the neck down...104 degree mud and you are
sweatin
like a donkey for 10 minutes. Then the sweet little lady (Bernice) comes in and tutors you on how to get yourself out! It was rather
embarrassing
trying to get mud off your naked body in front of Bernice then hoist yourself onto the side while
slippin
and
slidin
, cause remember you are naked! She puts you in a shower and says to clean off...HOLY COW I thought it was going to take me days to get that mud out from EVERYWHERE...but a mere 10 minutes and it was gone...I think.
Then it was time for the mineral bath. That was great. 15 minutes of a bubble bath!
Next was the sauna. I am not a fan of saunas. They are hot and make me think I am suffocating! Lucky for me there are built in windows for people like me to stick their head out of...
I was then escorted into a "bed room" and wrapped in a sheet like material to cool down. Later Gloria came to give me a massage. It was wonderful!!! I could have been in there for hours!!!
The next day brought us Wine Tasting! Now, you are probably wondering how we managed this with two four year
olds
. It was easy because bribery+
capri
suns+all you can eat crackers+bribery of a tram ride= good girls...Our first stop was
Twomey
( TWO-ME). It was small and beautiful. $5.00 tasting and a free glass...we are all about freebies! We literally went through the hotel book to find the free/cheap ones and ones that had excitement such as glasses or tram rides. Next was Sterling. It was beautiful! You take a tram up the side of the hill to get to the building. We had a nice place to sit while tasting and the children were given yet more juice and some coloring...
Twomey
Sterling
Next up was eating...we found a Dean and
Deluca
which was amazing...bread, cheese, and meat for lunch equals HAPPINESS!!!
While waiting to check into the place of sleeping the night prior, I found a pamphlet stand. You know the ones that little kids take like a
jillion
of just to have? I did it myself as a child so I know all about it. I found one that was for the Jelly Belly Factory!!! So guess where we headed next???!?!?!?! JELLY BELLY HERE WE COME!!!!...to be continued...